I question enough of Dr. Park's assertions in his recent post that I'm quoting it below and adding my comments in blue italics:
Out with the old year and the old ideas and in with the new. I would like to offer my understanding of why we get old and sick and tell you what the future holds for defeating these scourges
---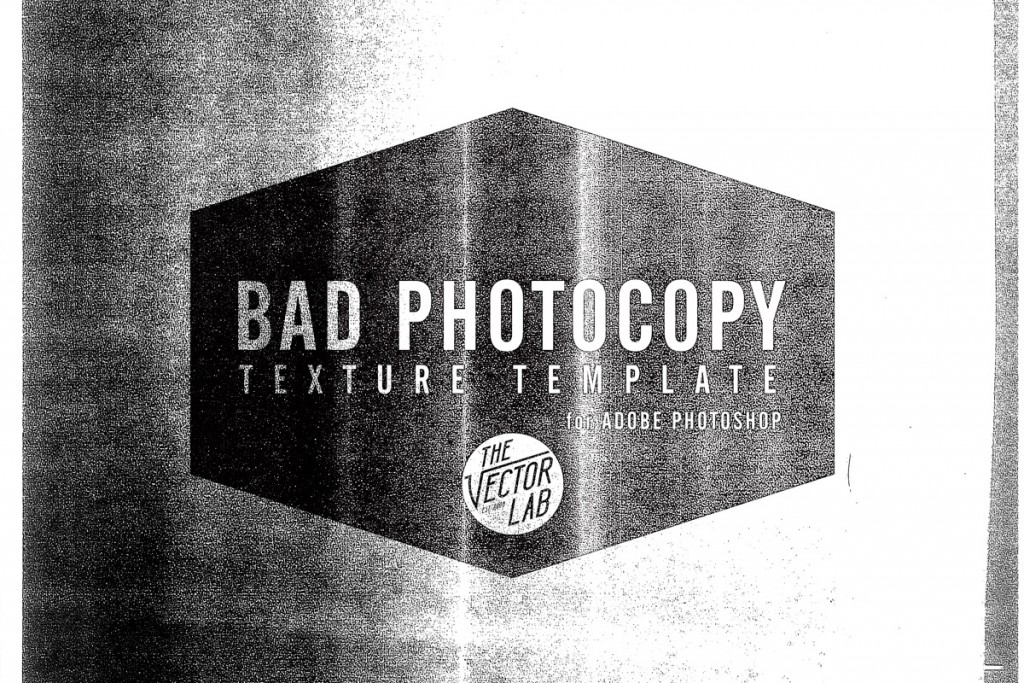 1) You started with only one 'perfect' copy of DNA in your chromosomes when you were a single cell fertilized egg. Since then, each copy has made successive generations progressively worse
The telomeres do shorten, and this could easily be a clock that signals/directs Programmed Aging, but Dr. Mike Fossel just wrote that DNA copying is robust: "Damage is never tolerated"
---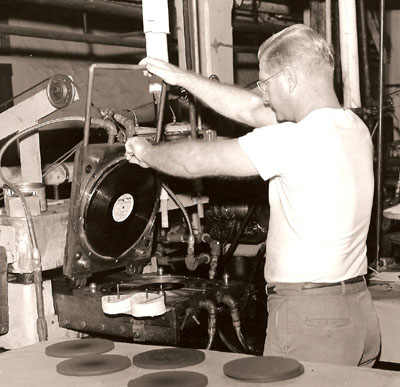 2) There is no way to go back and look up the master copy and proofread and correct any newly minted cells to that standard of perfection. That said, custom stem cell differentiation will be available some day from your stored infant cord blood or adolescent ovarian/testicular biopsies.
When coupled with in situ senescent stem cell detection and destruction, we will have truly harnessed regenerative medicine.
But if the copies are in fact not damaged at the DNA level, but only "Epigentically aged" via signals driven by short telomeres, then lengthening the telomeres could reverse the damage.
---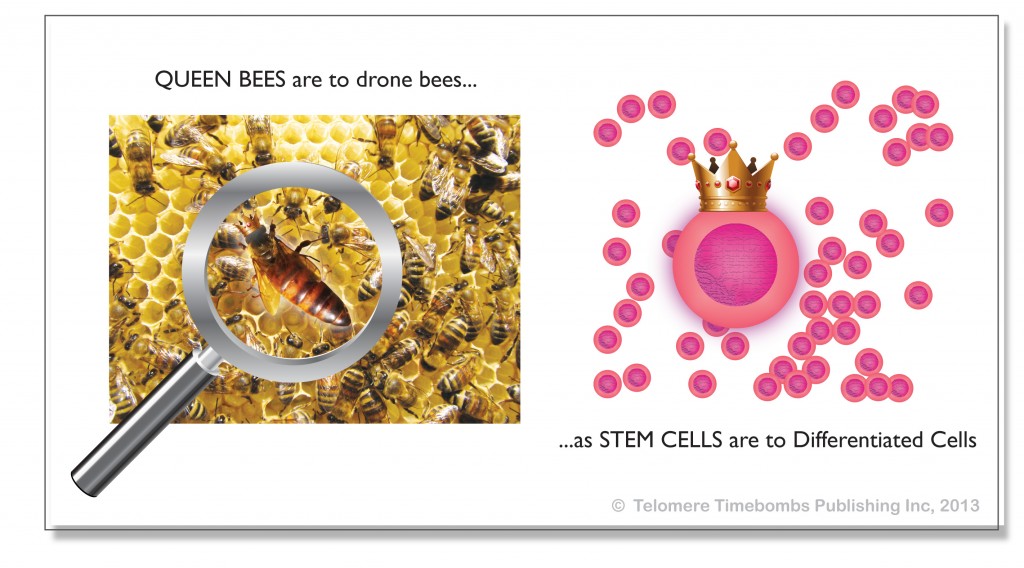 3) We are eating off of 'paper plates' for most of our lives. In other words, the cells that make up most of our body and that we burn through rapidly are not the immortalized queen bee stem cells but rather throw-away drone bees and can only divide a finite number of times due to the Hayflick Limit
These queen bees are replenished by relatively younger ones frozen in cartilage known as mesenchymal stem stems. For more info read my book, Telomere Timebombs: Defusing the Terror of Aging
---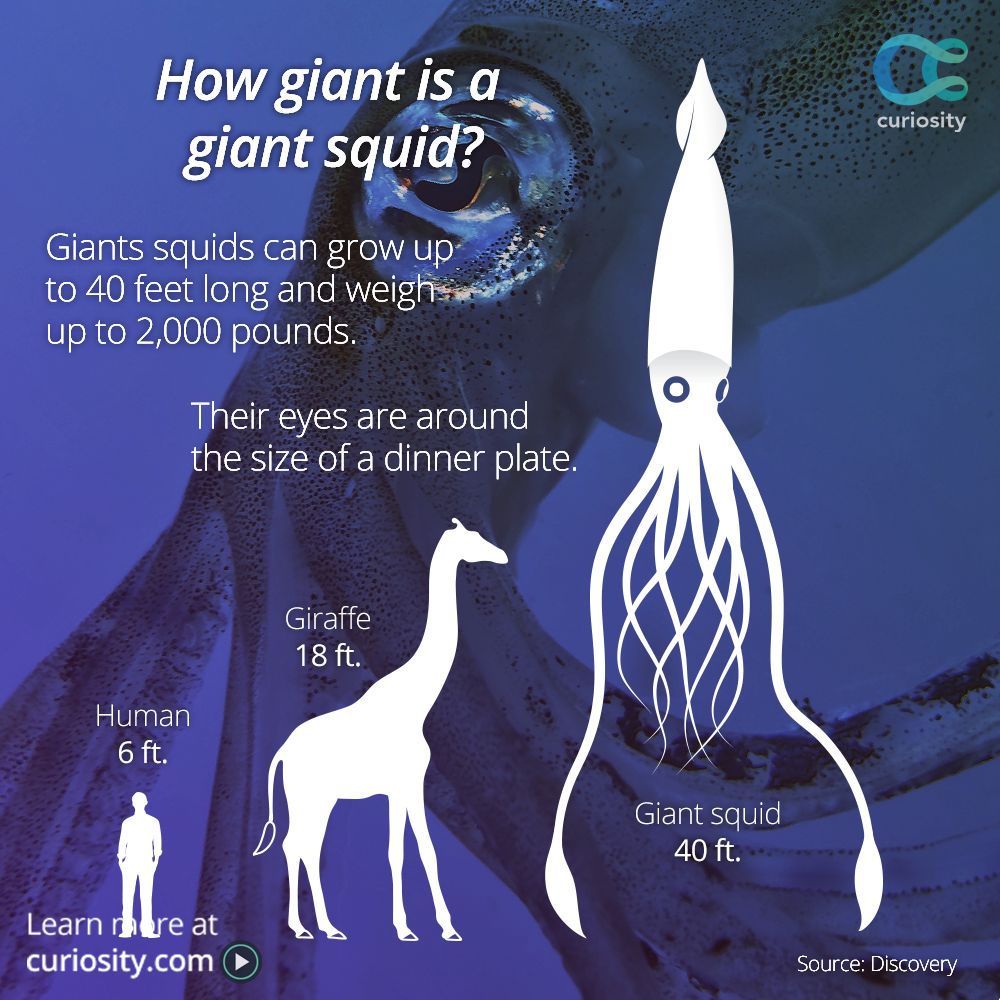 4) Axiom #3 is a good thing because immortalized species with too many stem cells like trees, lobsters, and jellyfish grow really large
---
5) The more times stem cells copy themselves the greater the accumulation of little errors from transcription and the higher the likelihood of cataclysmic errors from end-to-end fusion and nondisjunction that result from the joining of 'naked' telomere ends that the DNA repair team can't distinguish from a chromosome break. Again, this begs the question of whether there are in fact many transcription errors before telomere shortening leads to catacylsmic errors from end-to-end fusion and nondisjunction. Where is the evidence for "many transcription errors" whlle telomere length is still sufficient?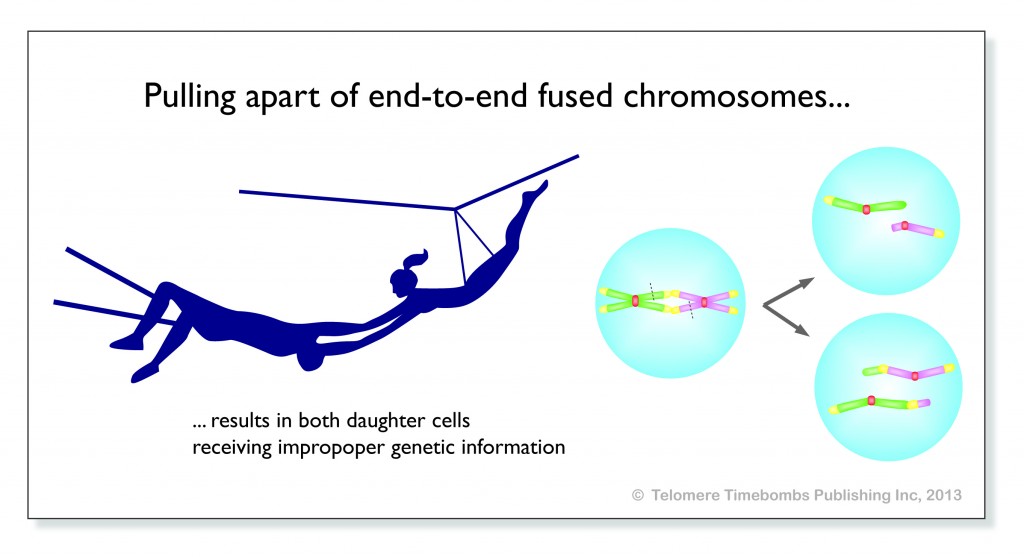 ---
6) You can't be old when you're young because you have too high a reserve of genetically intact replacement stem cells
---
7) You can't easily look younger even with telomerase activators because your cells are made from master copy queen bees that are already genetically damaged and have epigenetic modifications that are also transmitted
Again, I accept the epigenetic modifications in the [aged] master copy queen bees, but where is the evidence for "already genetically damaged"? Is Fossel wrong in his claim that DNA transcription / repair is extremely robust?
---
8) Cell replication, cell damage and destruction, and inflammation are not inherently bad if you maintain a huge reserve of high genetic integrity stem cells with long telomeres
---
9) We actually depend upon cells both, stem and non-stem, to have intact self-annihilation from multiple mechanisms. One of the primary ones is mediated by the "watchman of the genome", P53, which triggers oxidative damage via poking holes in mitochondria. This hallmark of a an old an apoptotic cell is still mistaken for the cause, not result of aging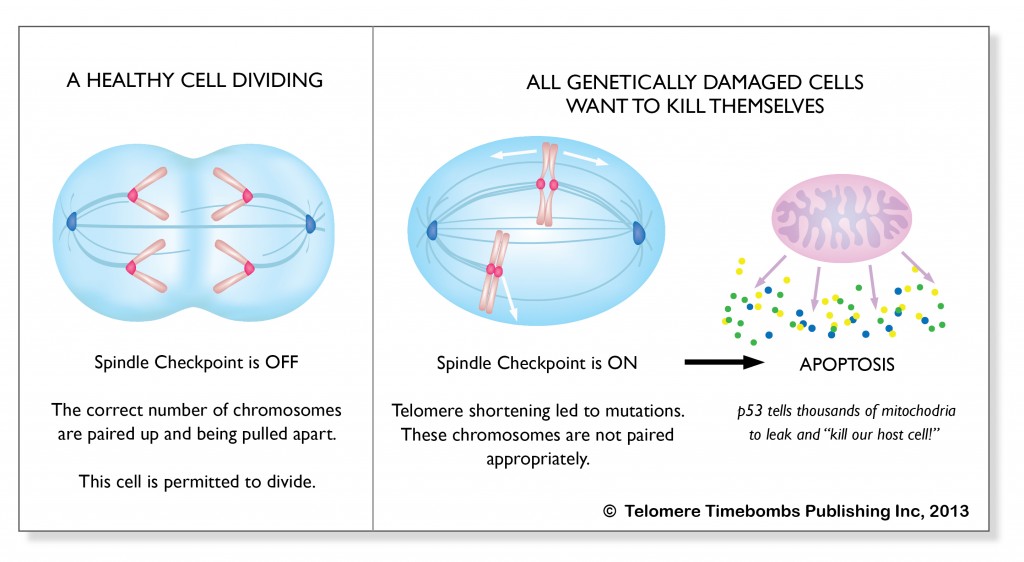 ---
10) Fixing damaged cells or tricking them to act younger is much less feasible and efficient than maintaining their genetic integrity by keeping the undamaged pool of stem cells healthier for longer via telomerase activity
Yes! Prevention is better than cure. But if we're dealing largely with Epigenetic changes, they are much easier to reverse than DNA damage.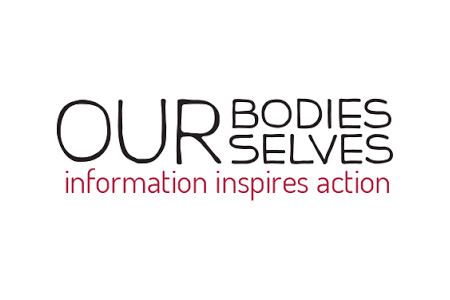 ---
So given these principles, the extreme health and longevity in the year 2116 will look like the following (may we all be around to benefit)…
1) banking cord blood for your newborn Great option for those as yet unborn.
2) getting great sleep (the time when your cells heal and or replace themselves) I can do that!
3) avoid excessive inflammation and cell destruction (smoking, drinking, excessive exercise) I can do that!
4) enhance telomerase activity with supplements, grateful abundant thinking, and humor. I can do that!
5) questioning anyone who tries to sell you a theory of aging that ignores replicative senescence, which is the only explanation that has natural models of premature aging, experimental evidence of age reversal, and thousands of articles linking disease of aging to shortened telomeres I can do that!
6) questioning anyone who asserts that DNA copying errors are as common as "noise accumulation" with an [analog] photocopying machine.
---
My gratitude to my friend Dr. Ed Park for stimulating me to write this response to his thoughtful post!